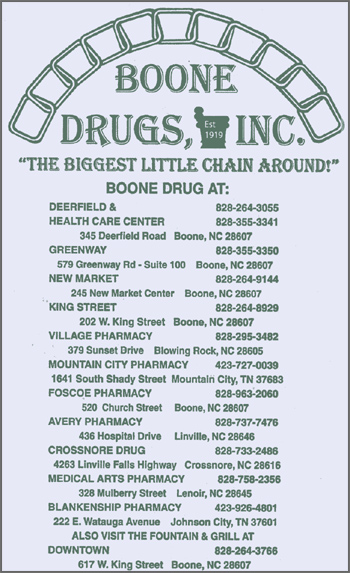 Boone Drug History
Boone Drug was founded in 1919 by Dr. G. K. Moose, who held a law degree as well as a degree in Pharmacy. Thanks to local customers, Boone Drug now has 7 locations in the surrounding area making us "The Biggest Little Chain Around."
For more information on the history of Boone Drug, please visit our website.
In the early years, we sold leeches for medicinal reasons. Now we have a group of them that gather here each morning and call themselves the Coffee Club. Ain't that somethin'! We still have leeches after all these years.
---
All food cooked to order and custom made to your tastebuds!
CLICK HERE FOR KING STREET SODA FOUNTAIN AND GRILL MENU.
HOURS:
LUNCH:
11am - 2:30pm
Monday through Saturday
---
REGISTER NOW
to receive a $10.00 food certificate for $5.00!
Valid at the King Street location. Dine-In Only (Monday-Saturday)